Blog
JCI UK National Convention
by Bethany Livesey on November 27, 2016 17:16
It's hard to summarise a full weekend in a few words, fun, eye-opening, enlightening, entertaining are just a few words that come to mind. Let's give it a go in a little more detail.
This weekend, we held the JCI UK national conference, here in Manchester. Oranised by three superb women (all ex-JCI Manchester presidents) it was iinevitably going to be good. Chaired by 2015 president Kim Holden, the JCI UK team and chambers were invited to Manchester for an action packed weekend.
The weekend included training sessions, discussions, celebrations and expert speakers. It was a weekend to celebrate all the hard work from across the UK in 2016 and a weekend to learn more about how JCI can progress and continue to grow.
Friday kicked off with public speaking, debating, TOPY awards and a Friday 'Manchester' themed social! Huge congratulations to everyone who took part, everyone looked fab. The winner was 'Wonderwall Woman' Lesley Young!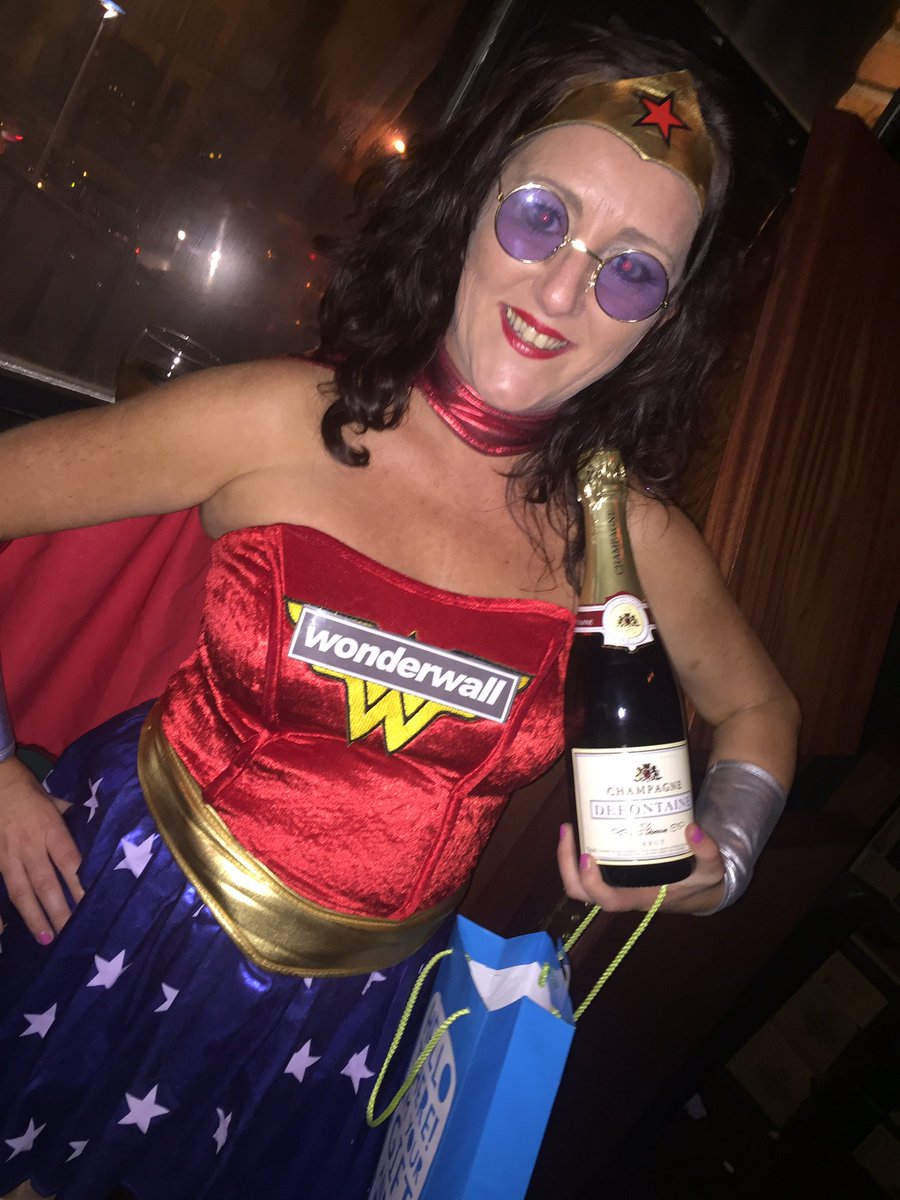 Saturday kicked off with our morning panel session of Rich Jones, Nicky Lidbetter and Sam Jones who shared their candid and thought provoking stories on mental health along with Jen Smith and Ilona Alcock. A discussion we will continue into 2017 and onward, the importance of which is only ever increasing.
Whilst the senators took a brewery tour and explored Manchester we continued with Marc Yaffe who each chaired a Q&As with Quinton Fortune. Who provided a superb insight into his live and passion. As you can imagine, we loved some of the stories from OT from Quinton and his optimistic view of life and humility.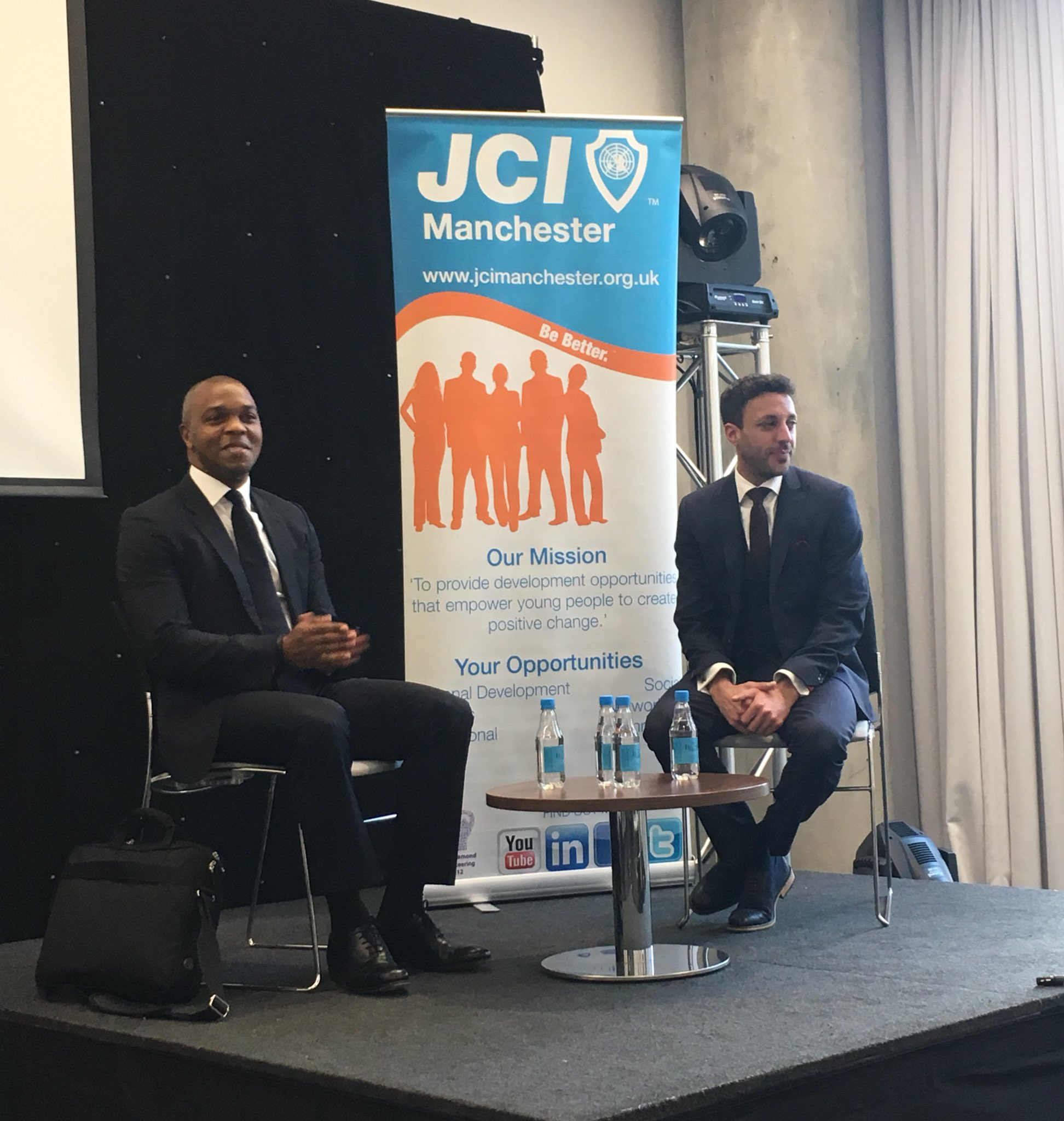 In the afternoon we hosted David Weir as he was questioned on everything from his favourite medal to his dream of leaving a true legacy in sport for the future generation. David is a shining example of how you can pave the way for future generations by setting a superb example, something we hugely support here at JCI Manchester and nationally with JCI UK.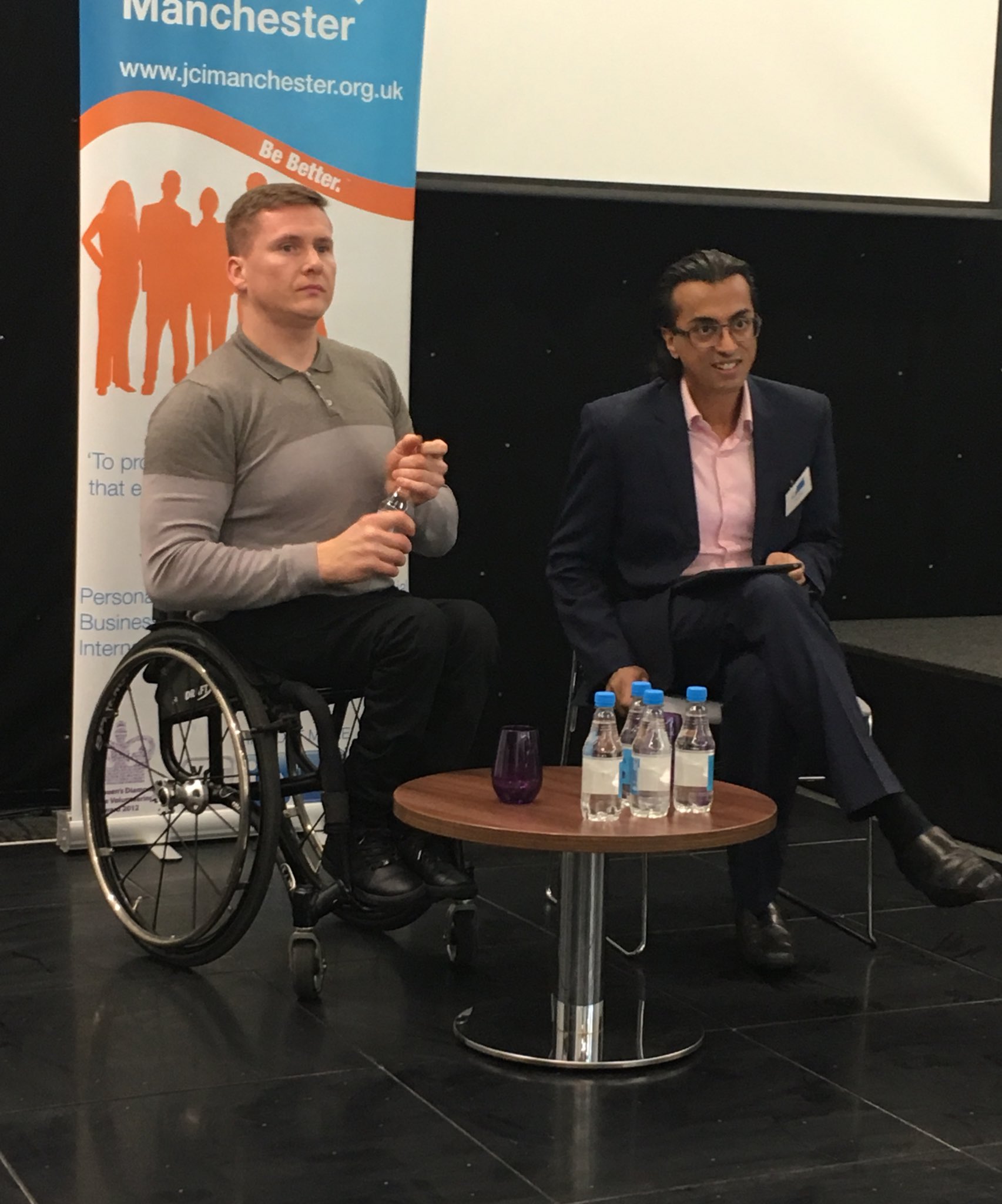 The hotly anticipated debating competition rounded off the afternoon with a JCI Sheffield Vs JCI Manchester final - huge congratulations to winners Sheffield! It's the first time we have entered in Manchester and we could not be prouder of our ladies getting to the final!
Following an action packed day we attended the JCI UK gala dinner in celebration of the huge success of all chambers in 2016, and guess what?!? WE WON! Yes, JCI Manchester won six national awards on Saturday.
We are thrilled and were up against some tough competition from across the UK after a brilliant year. Our awards included recognition for the MYTAs, charity work (inc 3 peaks), marketing activity and personal development programmes. Special well done to Paul for recognition as 'Best Local President' and member Rachael Shah who was named 'Best Speaker' in the debating final!
Congratulation especially to JCI London who scooped eight awards! Eight! Paul struggled with our five! We are truly thrilled, and our awards go to everyone in the last 67 years of JCI Manchester. Without you, espcieally the teams from the last 7 years, we wouldn't be able to build on your work. It's through continued focus on the example you set that JCI MCR continues to grow and thrive! (Full list of winners and photos to follow).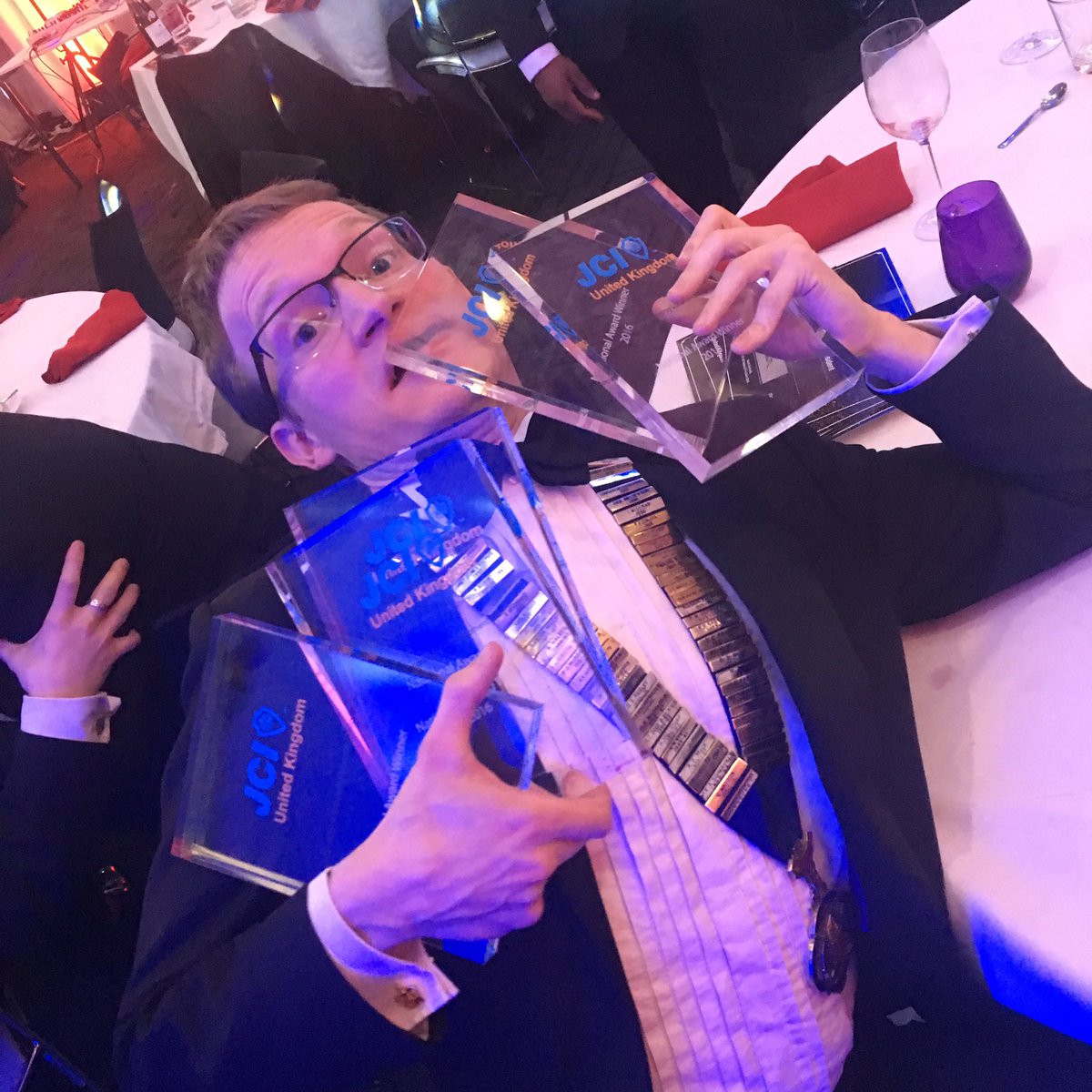 Sarurday was rounded off with a superb speech from 2016 national president Sarah Beckwith who then welcomed Michael Steel as incoming 2017 president. We can't wait to see what the 2017 team has in store for the UK chambers and look forward to the National Convention in Southampton in 2017.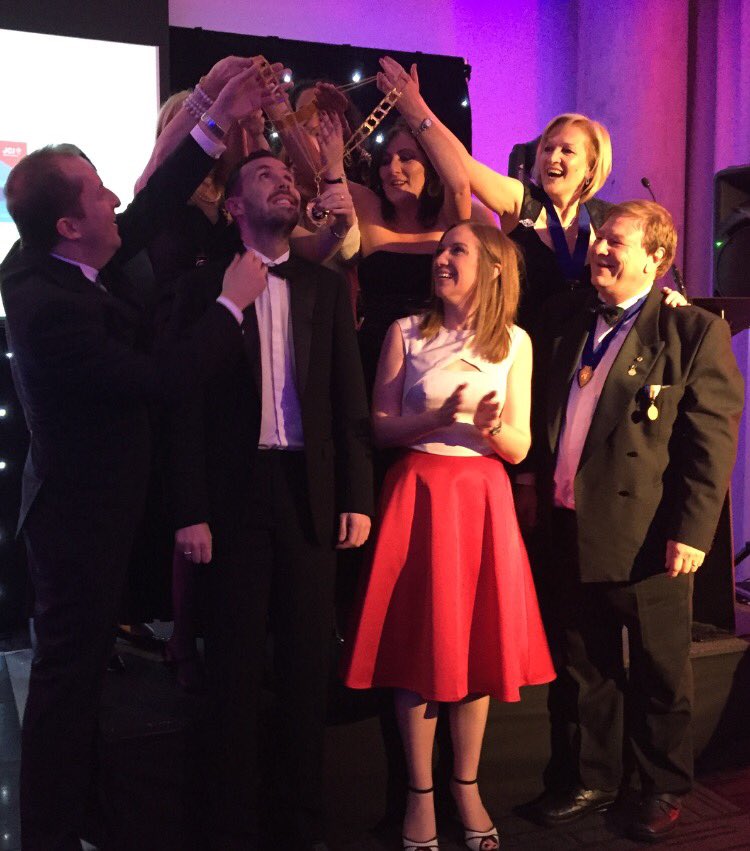 Thanks to everyone who joined us for the weekend and to Kim, Caroline & Jen for organising a great event, we hoped you enjoyed it as much as we did!
JCI offers so much in terms of personal development, meeting new people and having a bit of fun along the way. Having personally gained so much from being on the board in 2015 and 2016 I look forward to seeing what the new team in 2017 have to offer. I cannot encourage you enough to get involved. There's plenty of scope on the board to get involved (see previous blog) and Simon will do a wonderful job in 2017!
Thanks for reading, sharing and engaging with my rambles for the last two years! Let's bring 2016 to an end with a great event @ London Road Fire station!
Best wishes,
Beth x
Marketing Director, JCI Manchester
*More images from the JCIUK NC will follow on our facebook page.*
Creating Team 2017
by Paul Widger on October 24, 2016 11:53
The JCI Manchester AGM - Join us in 2017!
JCI Manchester has called its 2016 Annual General Meeting at 6pm on Monday 19 December. It's very much an event in itself. The great and the good of JCI Manchester - past and present - come together to review and celebrate the year coming to a close; to elect the next year's board; and, this year, to vote on a new constitution (see below). Afterwards, we'll head for celebratory drinks and food.
We are seeking applicants for the following roles in 2017:
President
Deputy President (to support the President, and plan for taking over as President 2018)
Finance & Administration Director (to handle the cash and process invoices & expenses)
Business & Training Director (to organise our Breakfast Briefings and other business events)
Charity Director (to organise our fundraising events and liaise with charity partners)
Challenge Director (to organise one or more active fundraising challenges)
Social Director (to organise our evening social events)
Membership Director (to support our existing individual & corporate members and seek new memberships)
Marketing Director (to manage our member communications, PR and social media)
National & International Liaison Director (to promote and organise national and international JCI events, include a weekend visit from our twin chamber, JCI Cork)
Sponsorship Director (to secure sponsorship arrangements for any of JCI's programmes)
We are able to have multiple people appointed to share each role (except President and Deputy).
We are also seeking a number of people to join us in a less formal capacity, to help with certain projects, such as:
Supporting any of the above director roles (eg assistant Marketing Director or Membership Director)
Managing our Public Speaking Workshops series
Promoting our blood donation project
Helping with our Manchester Young Talent Awards programme and dinner
Other support and project roles
You must be a member of JCI Manchester to apply for any role.
If you'd like to chat to us about any of these roles, please contact 2016 President Paul or our candidate for President 2017, Simon Anderson.
We mentioned the constitution... JCI Manchester is a voluntary organisation belonging to and run by its members, and governed by a constitution. We fall under "JCI United Kingdom" and, indeed, the worldwide Junior Chamber International movement. JCI UK recently made some changes to its constitution, and we thought it was a good opportunity to revise our own. Therefore, here is a link to a proposed JCI Manchester constitution, that we will be voting on at the December 2016 AGM.
The AGM is for all members of JCI Manchester (and open to other spectators). We will email all members at least 21 days beforehand with formal notice. Please contact Paul for any further details.
Nomination deadline 2nd September!
by Bethany Livesey on August 8, 2016 10:53
It's rare that we get the opportunity to take a look at our team and show genuine appreciation for our superstars. Every workplace has them, those people that go above and beyond the call of duty. That arrive before 9am and are the last to leave in the evening. That are answering emails at weekends even when specifically instructed not to, and all for the good of a company, firm, organisation that they work with. They unknowingly form an irreplaceable cog in the organisational machine and inspire those around them through their dedication and hard work.
It was for this reason that JCI Manchester started its flag ship event, the Manchester Young Talent Awards some 7 years ago; to give businesses the chance to publicly show their appreciation for those superstars that make such a huge contribution to the running of their organisation.
Nominations are now officially open for you to nominate one of your team for the following awards:
- Most Promising Young Person in Manchester (Rising star award)
- Entrepreneur of the Year
- Finance Professional of the Year
- Legal Professional of the Year
- Talent & Recruiter of the Year
- Marketing/PR Professional of the Year
- Digital, Media or Creative Professional of the Year
- Property Professional of the Year
- Team of the Year
- And the new category for this year; Hospitality Professional of the Year
Each year we get a high number of nominations in each of the categories, and each year the judges comments on the quality of these nominations which is testimony to the quality of Manchester workforces. Each year the prestige attached to one of these awards grows and grows and people are coming to realise that it is 100% something worth going for, both in terms of their own profile and career progression and also in terms of their inner sense of pride in what they have achieved!
But these aren't the only reasons you should choose to nominate either yourself or a member of your team. Apart from the fact that a well performing member of your team gains some long overdue recognition and that there is the prestige attached to winning such an award; why else would you consider nominating someone?
Well firstly, its free publicity! Even if you don't make the short list your nomination will be carefully considered by a panel of judges who may previously have never even known you or your company existed! And, the selection of judges this year is as good as it's ever been, including;
- Adrian Anderson – Partner and Head of Corporate and Commercial Law at Ralli Solicitors,
- Paul Kenyon – Co-Founder and Co-CEO of Avecto Ltd, one of the UK's fastest growing software company year on year,
- James Hitchens, Owner of Neighbourhood Bar and Restaurant;
- Mel Kirk, Founder and Owner of Pulsar Healthcare, a communications company recognised as one of the leading marketing agencies within their healthcare niche; and
- Sarah Beckwith, JCI UK National President
That's a good group of faces for you to shove your career merits in front of. Who knows what kinds of opportunities could open themselves up to you if the judges see them and are impressed.
Better still, If you end up making the shortlist for your category, your name will be publicly displayed on a number of occasions, both in the lead up to the awards ceremony via printed and social media outlets and on the award night itself, putting your individual/company profile in the faces of all the attendees and anyone who may read about it. It then goes without saying that the winners get more profiling still!
Secondly, it demonstrates an appreciative company culture. Dale Carnegie in his book 'How to Win Friends and Influence People' states that this is one of the most important principles in creating a workforce that actually want to work for you rather than just turn up and do the job each day for the pay check at the end of the month! Show them some genuine appreciation. Nothing says genuine appreciation like taking the time out of your day to fill out a nomination form for one of your employees who you believe has excelled and is worthy of an award.
Finally, the evening itself is absolutely fantastic (even if we do say so ourselves). Every year the MYTA's bar is raised in terms of the quality of the event. The band always plays a large variety of certified bangers and the drink flows freely! It's 100% free to nominate so it really is a case of nothing to lose, everything to gain.
So start thinking about making a difference to someone's year and nominate them for one of our prestigious MYTA awards. Nominations close on the 2nd September, so get nominating! For help and assistance with nominations contact Simon Anderson at simon@pro-fit21.com
Thanks,
JCI Manchester MYTA Team
How we became an award-winning chamber
by Paul Widger on July 27, 2016 15:15
We're owed a good news story. One that demonstrates how we love and unite with Europe, even outside the EU.
Three JCI Manchester members recently travelled to Tampere, Finland, to join 2,000 other JCI members for the European Convention.
It was a packed few days, meeting new friends, creating new ideas and sipping new award-winning gins. We drew great value from the workshops, the high-profile speakers and, yes, even the pricey Scandinavian drinks!
The highlights for Manchester were winning a European award for our efforts in growing the chamber, and our member Ilona Alcock coming a narrow second in the European public speaking competition with two show-stopping speeches.
How did we earn our award? I knew you'd ask. I joined JCI Manchester in 2010, when there were only a handful of members. Now our events are sell-outs.
It's right to consider that six-year timeframe, because that's the key to growing our chamber. It took a few years: various teams but an unbroken campaign.
Before we could build our brand, we had to ensure that our events were of high quality, advertised well in advance, and hardly ever cancelled. We managed to attract good board members (competent, proactive and already well-networked) with the challenge of growing a chamber.
Our young talent awards are now in their seventh year and have been terrific in raising brand awareness and media coverage. Our themed socials have always been popular: great for networking, and they get people through the doors, to be introduced to our personal development and charity projects.
Then came our brand growth. Social media helped (mainly Twitter for us) but the most powerful tool remains human contact. A good reputation for events travelled out by word of mouth, and we were successful at engaging corporate partners from Manchester's young professionals community, keen to extend their networks.
Our final tips if you're trying to grow an enterprise (with hardly any budget!):
Get some training on how to write press releases. (JCI ran a seminar on this last year.) A good press release has to be succinct, open with key details, and then tell a good story. Include quotes.

Blitz the free media – blogs, Twitter, LinkedIn, Facebook. Keep it on brand, but also fresh, punchy, personal and interesting. Otherwise it'll get lost in the noise.

Make your own luck. Get to events where your ideal customers would be. Talk to everyone, positively and helpfully. Before long you'll be in the right place at the right time.

Nurture any media contacts. They love to be invited places for free!

Surround yourself with good people. People who want to muck in. Point them at what makes them passionate – everything else can be learnt.
So our growth has been a long-term project. And it's taken effort. But I've developed so much on that journey, made friends all over the UK and internationally, and capped it all off with a European award. Plenty to blow away the news blues.
JCI Manchester – EL '3' PEAKY BLINDERS
by Bethany Livesey on June 18, 2016 19:25
JCI Manchester –

EL

'3'

PEAKY BLINDERS
Training now complete, The JCI Manchester '3 Peaky Blinders' are looking forward to completing the their 3 Peaks Challenge over the weekend of the 25/26th June in aid of Anxiety UK, a Manchester based charity that helps sufferers of anxiety. Training has been HARD. Blood, sweat and tears have all been shed in locations such as; Mam-Tor, Helvelyn, Snowdon and Scafell Pike so the participants could not be more than ready to take on the 3 highest peaks in our country in the 24 hour period permitted; Ben Nevis (1344m), Scafell Pike (978m) and Snowdon (1085m).
Name: James A
lcock
Occupation: Digital Bricklayer
Nickname for 3 Peaks weekend: 'El Donkey'
What you're most looking forward to about challenge: The Views
What's you're least looking forward to about the challenge: Travel Time
In general life, where is someone most likely to find you and what are you doing there? If not behind my desk coding some awesome software, then bareback horse riding and bull fighting.
Name: Natalie Ballard

Occupation: Civil Servant

Nickname for 3 Peaks weekend: 'El Rapido'

What you're most looking forward to about challenge: The sense of achievement and team spirit throughout it

What you're least looking forward to about the challenge: Knee pain on the way down!

In general life, where is someone most likely to find you and what are you doing there? Either running around south Manchester or in a bar drinking cider
Name: Paul Widger
Occupation: Forensic Accountant
Nickname for 3 Peaks weekend: 'El Presidente'
What you're most looking forward to about challenge:  Seeing people push themselves and come together as a team

What's you're least looking forward to about the challenge:  Going to JCI Glasgow on Friday night and having to limit the revelries!

In general life, where is someone most likely to find you and what are you doing there?  Falling asleep hugging a spreadsheet
Name: Matt Newton
Nickname for 3 Peaks weekend: El comodí
What you're most looking forward to about challenge: The cameraderie, the scenery, and the final, glorious pint!
What's you're least looking forward to about the challenge: The smell on the bus after running down snowdon.
In general life, where is someone most likely to find you and what are you doing there? MAMILing around on my bike, hunting for the perfect pint whilst constructing silly puns.
Name: Ellen Walker
Nickname for 3 Peaks weekend: El Rambo
What you're most looking forward to about challenge: The views from the top of each peak, the amazing company of my fellow Peaky Blinders and of course knowing that I am raising money for such a worthwhile cause.

What's you're least looking forward to about the challenge: The inevitable blisters and the bus journey - I am not a good traveller.
In general life, where is someone most likely to find you and what are you doing there? Most likely in a bar with friends drinking gin– sadly, not doing exercise!
Name: Philip Cockayne
Occupation: Management Consultant and
Chairman of the Yorkshire Group of Junior Chambers (JCI)

Nickname for 3 Peaks weekend: El Explorador

What you're most looking forward to about challenge: the sense of achievement that comes from doing it in under 24 hours and finally doing something I've been threatening to do for years.

What's you're least looking forward to about the challenge: actually doing it in under 24 hours! And the blisters!
In general life, where is someone most likely to find you and
what are you doing there: If I'm not doing Junior Chamber stuff or other volunteer work you'll either find me out on a run, at the climbing gym, in a local bar with friends or playing my guitar
Occupation: Employer Liaison Consultant

Nickname for 3 Peaks weekend: El Tigre

What you're most looking forward to about challenge: The scenery and the company - 24 hours with 12 JCI people and 3 of the most stunning mountains in the UK? Perfect weekend. And I'd be lying if I said I wasn't also VERY excited about catching up with JCI Glasgow on the Friday night!
What's you're least looking forward to about the challenge: Lack of sleep! I get quite grumpy without my full eight hours (you have been warned).

In general life, where is someone most likely to find you and what are you doing there? Either out running round Wigan in training for some crazy race (next up, North Yorkshire Coast Marathon) or curled up on the sofa with my cat and a good book.
Name: Janey Leonard-Myers
Occupation: Marketing / Business Development Guru

Nickname for 3 Peaks weekend: El Gambas
What you're most looking forward to about challenge: Looking forward to all the top mountain BANTER!!!!

What's you're least looking forward to about the challenge: Losing a toenail
In general life, where is someone most likely to find you and what are you doing there? Most likely to find me in a park with a pack of sausage dogs trotting behind me like the pied piper of Manchester.
Occupation: Technical Project Manager
Nickname for 3 Peaks weekend: El Guapo (from classic 80s comedy film The Three Amigos!)
What you're most looking forward to about challenge: Meeting everyone, finishing within 24hrs.
What's you're least looking forward to about the challenge: Dodgy Weather
In general life, where is someone most likely to find you and what are you doing there? Cycling or at a JCI event…
Name: Simon Anderson
Occupation: Personal Trainer
Nickname for 3 Peaks weekend: El Capitan
What you're most looking forward to about challenge: Night out with JCI Glasgow before the Challenge and the Coming Home party in Dive Bar after the challenge.

What's you're least looking forward to about the challenge: Potential Travel Sickness

In general life, where is someone most likely to find you and what are you doing there? Round someone's house making them sweat.
Name: Ioan Stefan Mesaros
Occupation: Judo Assassin
Nickname for 3 Peaks weekend: El-Usive
What you're most looking forward to about challenge: Meeting everyone for the first time

What you're least looking forward to about the challenge: The potentially awkward atmosphere in the mini-bus post EU referendum.

In general life, where is someone most likely to find you and what are you doing there? Wandering round Glen Ridding car park trying to find people.
Occupation: Supply Chain Management Trainee
Nickname for 3 Peaks weekend: El Trek Bar
What you're most looking forward to about challenge: The Views and Random topics of conversation

What you're least looking forward to about the challenge: Dead Legs after the walk

In general life, where is someone most likely to find you and what are you doing there: Anywhere there is food – a café, a supermarket/restaurant or in my kitchen cooking!


So there you have it
, your JCI Manchester '3 Peaky Blinders' – Our target is £2000 so please donate what you can to the following link –
https://www.justgiving.com/fundraising/JCI3Peaks

We will also be hosting a coming home party at Dive Bar in the Northern Quarter from 8-11pm so if you're around please come join us in welcoming our heroes home.

Wish us luck!
JCI Manchester 3 Peaks Team 2016 – El 3 Peaky Blinders
JCI Manchester Take the MYTAs to the Next Level
by Bethany Livesey on June 1, 2016 13:03
JCI Manchester, is set to launch a new award category to celebrate Manchester's thriving hospitality scene. The Manchester Young Talent Awards, hosted by the group, are back for a seventh year and are giving the growing industry a chance to line up against the best talent in Manchester.
The group has seen a marked increase in involvement of the industry and JCI will recognise the outstanding efforts across the sector.
JCI Manchester 2016 President, Paul Widger said
"We are really excited to launch the new award. We regularly work with the sector to host the events and the talent and focus of individuals is exceptional. The Manchester Young Talent Awards seek to recognise the passion and growth of this sector.
"Each year we are blown away by the level of the applications and by the support of Manchester's business community. Both elements show that Manchester embraces its own talent and has a great desire to celebrate the achievements of its up-and-coming stars. It also demonstrates that JCI Manchester is at the forefront of leading the charge on showcasing (not just to Manchester but nationally) that Manchester has talent – big talent!
"The level of talent we have showcased in the past has gone on to bigger and better things and have thanked JCI Manchester for the stepping stone along the way. We shouldn't forget the value of external recognition in kindling the self-belief of even our greatest talent."
The awards have grown each year, receiving a record number of nominations in 2015. They recognise professionals across sectors and last year featured winners from Sequre, MCFC, theEWord, JMW, Gresham Wealth, Capital Properties, Benchmark International, Instinct Resourcing and Ampersand Commerce.
Nominations are now open, as of 1st June 2016, and will recognise up to eleven outstanding individuals between the ages of 18 and 40 who exemplify the best attributes of Manchester's young people. JCI Manchester will present the Young Talent Awards for 2016 at a packed Awards Dinner on 17th November at the Imperial War Museum Manchester.
Winners will be selected by a panel of independent judges who are respected members of the Manchester business/professional community. The deadline for entries is 1st September with the shortlist being announced shortly afterwards.
To register for more information about the MYTA including how to enter, nomination criteria and tickets visit http://www.mytawards.co.uk/
JCI Talked Mental Health with Vikas Shah
by Paul Widger on April 25, 2016 09:17
JCI Manchester's breakfast briefing of February 2016 was both a happy and a poignant occasion.
Our speaker was Vikas Shah, who was able to collect his award as a UK winner of 2015's Ten Outstanding Young Persons competition. Vikas has incredible stories from his multiple business ventures and VIP interviews, but he took this opportunity to speak about his challenges with depression.
Fifty attendees had first ploughed through a quality breakfast, provided by our hosts JMW Solicitors, and passed around the business cards. Our business director Raana Afsarpour then welcomed the guests and introduced Vikas.
Vikas's current venture is Swiscot Group, a global textiles and trading business. He also provides business consultancy services, sits on multiple boards focused on technology and entrepreneurship, and has a side-line in interviewing high profile names from Branson to Buzz Aldrin.
His story is one of big names and globe-trotting success, peppered with the corporate failures that we now expect to fill every entrepreneur's closet. But behind that glamour and game face was an anxiety that led to depression and a number of suicide attempts.
Vikas moved the audience with his surprising hidden story, and shocked them with an evocation of how a person somewhere succeeds in a suicide attempt every 40 seconds.
Local president Paul Widger thanked Vikas deeply for his continuing support of JCI Manchester, and vowed that the chamber would continue this work in raising awareness of mental health issues.
JCI Manchester's LinkedIn group is accepting anonymous stories of anxiety and depression, should anyone want to share them (log in to LinkedIn with jcianon@outlook.com / jcianon, and search for the JCI Manchester group). We are also undertaking the national '3 Peaks Challenge' in support of Anxiety UK, a Manchester-headquartered charity supporting all those struggling with any aspect of mental health.
Meet the President
by Bethany Livesey on February 14, 2016 14:32
Meet the President
Paul Widger, a forensic accountant at RSM, is JCI Manchester's president for 2016
I'd like to describe the journey I've taken from thinking I could probably be JCI president, to doubting it, to achieving it. It's a story that introduces me, JCI Manchester and one of the many, varied opportunities for personal growth open to all our members.
I joined JCI Manchester in 2010, when it was a much smaller organisation than it is now. It would be a cliché to say that "I never dreamed I could be president". Well, in youthful confidence, I totally thought I could.
I quickly joined the board, my first duty being to chair a panel discussion on start-up businesses. It was the kind of task – just outside my comfort zone – that I liked to nervously embrace. Tasks like this reminded me that, whilst I might think I was good at my day job, there was a world of other skills out there to be mastered.
I spent more time in JCI, visiting other chambers in the UK, and even attending a European Conference. I met some seriously impressive and inspirational people. People who went beyond simply chairing a meeting or organising an event. These people were leaders – leaders you wanted to follow. They told me that they volunteered their time for JCI because JCI had helped them to develop those skills in the first place. They said that JCI is run solely by volunteers, not because the experience is valueless, but because it's priceless.
It was by meeting such intimidatingly impressive and committed people, and by attending JCI's personal development and personality typing courses, that I began to understand myself and how early I was on my development journey. Suddenly, presidency felt a little beyond me.
I don't believe that anyone is born a great leader, or public speaker, or event organiser, or salesperson, or negotiator, or networker. We acquire these skills by practice. And JCI is the perfect environment in which to practice. It's bursting with opportunities, support and the awareness of how and what we need to learn.
In the subsequent few years I served on JCI UK's national board, I organised its national convention, and I've networked and spoken at events across the UK and around the world.
I now feel ready to take on the challenge of JCI Manchester's presidency. Am I perfectly capable to complete it? No, not perfectly. That's why I'm taking it on. In JCI, that's rather the point.
Find out more about the rest of the 2016 team helping create the best events and seminars for you
here.